Hello!
Almost daily for the last 20 years, I have worked in various mediums through self-directed assignments by engaging with and responding to what surrounds. Making things is the process I use to understand the world by grounding the experience of living, learning and communicating. The work is an expression of the process. Though, I am not sure which is the driving force— the subject matter at hand, or the process of making, learning or research. And sometimes new ideas meet failed works to be reconsidered. The craft is the method used to carry traditions I have learned from my teachers, and their teachers, alongside studio experimentation in search of new perspectives and ways of seeing.

Spring 2019 has arrived! And it is nice to revisit past Springs. Like the image above from an exhibition with the Sarah Gavlak Gallery in Palm Beach during the Spring Season of 2009. It was an exciting to have worked with Miss Gavlak together on this and other shows. This April's exhibition, Out of the Studio, is 17 new photographs made outdoors and developed over the span of a decade. The images were culled from the series by Anna Walker Skillman, owner of Jackson Fine Art. While making this work, (collecting specimens, fauna, and vegetation natural to this mountain range) I thought about many things including: nature as a living marker of societal priorities (environmental policies), healing and toxic powers (medicine), classification systems (i.e., what is considered a weed or not), and uses (and dis-used).
Photographs from the same series were debuted at the Untitled Fair Miami 2019 with Marisa Newman Projects alongside fellow artist Lynn Gottlieb Gelfman. The booth design was by Office Ga principle Jonathan Gonzales. Prior, Marisa Newman and I visited Lynn in Miami. It was there, at her beautiful family's house (also home to her busy studio) that I was introduce to Mr Gonzales' work when I saw his bench under a painting of Lynns. I was immediately drawn to its timeless design and direct comfort. Soon I was happy to learn we were meeting for dinner. By the following weekend Mr Gonzales was in Atlanta with the family in our building, which is also home to my studio. Jonathan drew up his vision — without any input by any of us. Marisa then brought our three visions together. And it was beautiful dream project. Trying not to be stressed during Art Basel Miami week, I swam as much as possible, and enjoyed long lunches with friends and colleagues. All in all, it was a great fair. There were private sales, along with several works placed in prestigious Cleveland Clinic Collection.
Please drop me a line to let me know you stopped by the site.
Take care,
Carolyn
P.s. This article has been making the round lately, and for good reason—nature heals.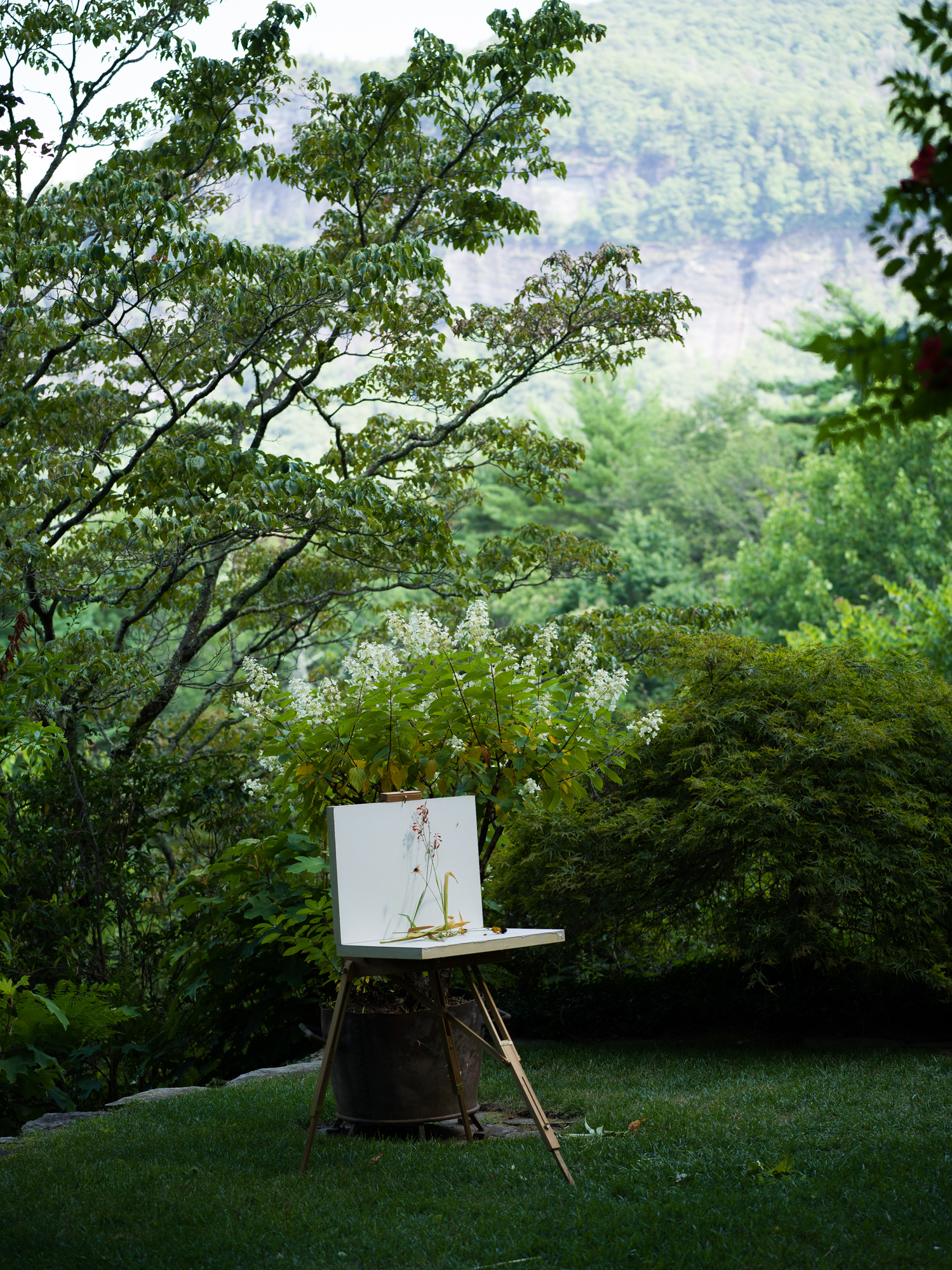 Table Setting, 2018
Signed on verso
chromogenic dye coupler print
30 x 24 inches Edition of 3 + 1AP
40 x 30 inches Edition of 3 + 1AP
ADDITIONAL IMAGES IN THE SERIES